Search & Buy Air China Flights
Airlines will always try to sit children with their parents (subject to check-in)
Some airlines will allow travel for unaccompanied minors. Please email us to check.
The fare is based on the child's age on the date of travel.
More detailed information can be found here Traveling with children
Most airlines will let infants travel with their parent(s) for free. However some airlines will charge up to 10% of the adult ticket price. Click on 'Price Breakdown' to find out more.
If you are pregnant, but due before the flight departure date, please contact us once your baby is born and has a name. We can then add him/her to your ticket.
Infants will not be given a seat. The airlines expect parents to travel with them on their lap.
Airlines regard infants as being under 24 months old.
The fare is based on the child's age on the date of travel.
More detailed information can be found here Traveling with children
Buy
Air China

Flights
Air China Reservations with Alternative Airlines
Make an Air China Booking and Find Some Amazing Deals
---
About Air China
Air China is the flag carrier of the People's Republic of China with its headquarters in the Shunyi District, Beijing. The Chinese airline's primary hub airport is Beijing Capital International Airport, although they have two other main hubs in Chengdu and Shanghai. Air China operates 322 routes, including 82 international, 15 regional and 225 domestic routes. These destinations include Beijing, Shenzhen, Baiyun, Shanghai, Jinan, Xiaoshan, Liuting, Xiamen, Tinahe, San Francisco, Los Angeles, New York City, London, Copenhagen, Paris, Rome, Madrid and many others.
Air China began operations in July 1988, as a result of the Chinese government's decision to split China's operating divisions into six separate airlines; Air China, China Eastern, China Southern, China Northern, China Southwest and China Northwest. As China's only national airline, it is committed to social responsibility and plays an important role in facilitating the implementation of key national strategies, such as the "Going Global Strategy", which encourages Chinese enterprises to invest overseas.
The airline has codeshare agreements with many airlines including Air Canada, Air Macau, Air New Zealand, Austrian Airlines, Cathay Pacific, South African Airways, Shenzehn Airlines, Singapore Airlines, Tibet Airlines, United Airlines amongst many others. Air China joined the Sky Alliance - the world's largest global airline alliance. The Sky Alliance has two tiers of their reward's program, Silver and Gold, with incentives including upgrades and priority boarding. The Sky Alliance now has 27 members operating with a combined fleet of over 4,000 aircraft serving more than 1,000 airports in over 190 countries. Between all of the airlines, the alliance serves over 18,000 daily departures flights combined.
Air China flies to many destinations both within China and around the world. Some of the airline's most popular destinations include Bangkok (Thailiand), Barcelona (Spain), Berlin (Germany), Cairo (Egypt), Changzhou (China), Chaoyang (China), Dandong (China), Haikou (China), Hanoi (Vietnam), Honolulu (Hawaii), Houston (USA), London (UK). Mianyang (China), Munich (Germany), New York (USA), Rome (Italy), Shanghai (China), Shenzhen (China), Tokyo (Japan), Qinghai (China, Yangzhou (China) and Zhengzhou (China).
---
Air China Fleet
The Air China fleet is constantly adapting and changing but currently includes Airbus A320-200, Airbus A319-100, Airbus A321-200 and Airbus A330-200.
---
Air China Seat Selection
Alternative Airlines customers can now pre-book Air China seats when they purchase their flight. Whether you love to have a window seat or you prefer the aisle, you'll find your favourite place to sit on the plane with Alternative Airlines.
---
Book Air China Flights in English
With Alternative Airlines you can book your Air China flights in English! Avoid misunderstandings and count on us to provide you with a safe and secure booking service in English. You can also contact our excellent customer service team with any of your queries.
---
Air China Baggage
Carry-on Baggage
The hand baggage allowance for First class and Business class Air China passengers is two pieces of carry-on baggage weighing no more than 8kg each. The baggage allowance for Economy Class passengers is one piece of carry-on baggage weighing no more than 5kg. Carry-on baggage must not exceed dimensions of 55cm x 40cm x 20cm. Any luggage that does not fit in the overhead cabin or seat in front of you will have to be checked into the hold.
Carry-on Baggage
The checked baggage allowance is one piece of baggage with a maximum weight of 32kg. The total dimensions must not exceed 203cm (80in) and must not be less than 60cm (24in).
---
Air China Check-In Information
Online Check-In
Online check-in is available on the Air China website.
Airport Check-In
Customers must arrive at the airport before the check-in desk closes. Check-in closing time will vary according to the flight's departure. In general, for domestic flights passengers must arrive 45 minutes prior to departure and 60 minutes prior for international flights.
---
Air China Inflight Entertainment
Passengers are provided with in-flight magazines, newspapers, TV channels and movies on board their widebody jets.
Air China Movies
Air China offers eight classic movies by world-renowned directors such as John Woo, Jia Zhangke and Xie Fe. Aircraft are equipped with state-of-the-art AVOD systems featuring bilingual classic movies as well as a large collection of games.
---
Air China Food
Air China Meal Options
Economy passengers can enjoy healthy gourmet meals made with carefully selected ingredients on board their flight. Depending on the duration and time of your flight, passengers will be provided with breakfast, lunches, dinner and snacks. For shorter flights, passengers may receive sandwiches, hamburgers or snacks such as Chinese cake.
Passengers in business and first class can enjoy western or Chinese style food at any mealtime, with lunch and dinner offering at least 3 main meal options which is served with a starter, bread, salad, cheese, fruit and a dessert. Snacks will also be available between meals, with healthy options such as seasonal fruits and yogurt.
Air China have also recently invested in a new 'Forbidden Pavilion First Class' and 'Capital Pavilion Business Class', wherein passengers can enjoy tailor-made menus consisting of 18 dishes which can be pre-ordered and reserved. The available dishes include seafood, beef, pork, chicken, duck, vegetables or noodle soup, but may vary on the route travelling.
Air China Special Dietary Requirements
Passengers can request special meals for their flights at the time of booking, up until 24 hours before flying (escept Kosher meals which must be requested 48 hours before departure). The types of meals available are as follows:
Air China Drinks & Alcohol
Passengers can enjoy a selection of teas, coffee and soft drinks onboard Air China flights. In addition, there is a 'Cellar in the Sky' service where passengers can try a range of different wines, champagnes, cognac, spirits and beer.
---
Air China First Class
Air China's First Class service provides you with the comfort and privacy you need to enjoy your flight. Sit back and relax in intimate and cosy suites and entertain yourself with a range of in-flight entertainment options.
What does First Class include?
As well as additional space and privacy on board, First Class passengers will be offered complimentary drinks and provided with slippers, L'Occitane amenity kit and high-quality pajamas. You'll also have an exquisite choice of in-flight meals with a range of dishses inspired by the Chinese cuisine and heritage.
Does Air China have a First Class lounge?
Air China's First Class lounge in Beijing can be accessed with the airline's Priority Pass. Pass the time before your flight in Air China's entertainment space, with comfortable seating and a wide screen TV. Enjoy a wide selection of complimetary food drinks and snacks and even choose Chinese delicacies from the airline's buffet selection.
---
Air China Business Class
Travel in style with Air China Business Class. Enjoy a relaxing flight and excellent customer service from check-in to landing.
Air China Business Class Facilities
Air China passengers can enjoy the peace and quiet of the Business Class lounge, where they will have access to a buffet and an exceptional selection of Chinese beers and wines to choose from.
What are Air China Business Class Seats Like?
Air China passengers are provided with a fully-flat bed to make sure they get the best sleep possible and arrive revitalised for the next leg of their journey. Passengers can adjust the seat to upright and relaxed positions for maximum comfort while sitting or reclining. With thick duvets and medium-size pillows as well as signature Air China red slippers, you will enjoy a relaxing night sleep onboard your Air China flight.
---
Premium Economy Class
Air China is yet to offer Premium Economy. If you wish to upgrade, please see the airline's Business Class fare.
---
Air China Economy Class
Air China Economy Class will serve you with a smile, comfort and treat you like a First Class passenger.
Air China Economy Class Facilities
Pillows and blankets are provided in Economy Class, giving you comfort and a peaceful journey. Power outlets are available to help charge devices. Headphones and in-flight entertainment is available for your journey, with a range of music, films and games. Translation services from Mandarin to English is available. Drinks services come through and can take your selection or a cart of a range of beverages to choose from. White and red wine, beer and soft drinks can be chosen. Meals are included in Economy Class, with a mixture of cakes and snacks. Hot meals are served depending on the length of your journey and the time.
Air China Economy Class Seating
Air China's Economy Class seating consists of 261 seats and arranged in 3-3-3 configuration. Each seat is 32 inches wide and reclines.
---
Air China Route Map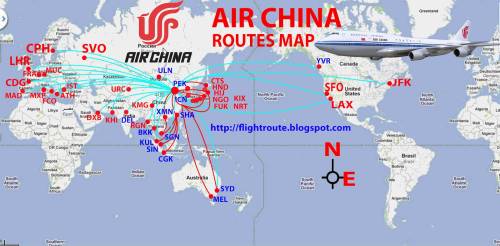 ---
Air China Popular Routes
London

Beijing
Beijing

Chengdu
Tokyo

London
Chengdu

Bangkok
Jakarta

Wuhan
Beijing

Urumqi
---
Air China Hub Airport
Beijing Capital International Airport
Air China is based at Beijing Capital International Airport which is the main international airport in Beijing. The Chinese airport is located 32km (20mi) from the city centre. In 2016 it welcomed over 95 million passengers, making it one of the busiest airports in the world. Other airlines flying similar routes include China Express Airlines.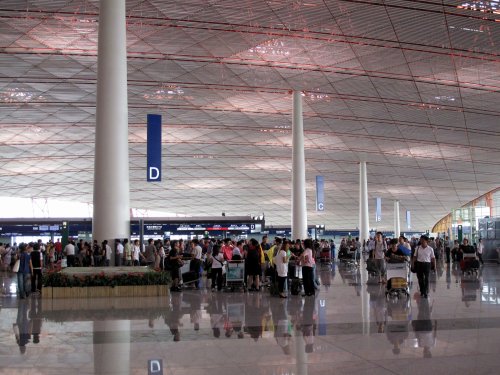 Photo credit: 頤園新居
---
Air China Discount and Promo Codes
Buy discounted tickets with our Air China deals and promo codes. Alternative Airlines can get you discount on your next Air China flight with a range of PayPal promo codes! Save money on any Air China with the great deals available!
---
Air China News
25th September 2018
Air China announces newest domestic route to Huizhou
Air China has announced another domestic route connecting China's capital Beijing to Huizhou in the Guangdong Province of the country. The Star Alliance member is the only airline to serve this route and will do so with its A320s. Although there is no direct competitive on this flight path, China United Airlines does offer flights between Huizhou and Beijing Nanyuan airport.